Tired of paying high prices for eggs? Or just want farm fresh eggs every morning? Get started during Chick Days! Descanso Hay & Feed will be getting in our first order of chicks at the end of February and we have everything you'll need to get started, even if your space is limited!
Extreme Cape Cod Chicken Coop Ideal For The Small, Backyard Farmer!
Extreme Cape Cod CoopExtreme Cape Cod Coop
Raising chickens can be a fun and enriching experience, and there are so many rewards to keeping chickens. They have amusing personalities, are low-cost to maintain, and they provide organic, hormone-free and nutritious eggs. The key to raising chickens is a safe and secure home that allows enough room to stretch out her wings and move about comfortably. Chicken homes by Precision Pet Products provide the backyard farmer with shelters that are beneficial in raising happy and healthy chickens! Bullseye Feed is a proud dealer of Precision Products and carries 2 different styles of coops! We also carry the Cape Cod for the smaller Cape Cod Coop.
Cape Cod CoopCape Cod Coop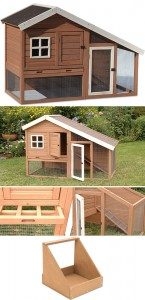 ◦ Complete Home for Chickens Includes: Locking Nesting Box, Private Sleeping Space with Easy Clean Floor Pan, Roosting Bar, Ramp and Ground Level Foraging Area
◦ Solid Wood Construction with Asphalt Roof for Added Protection
◦ Multiple Doors Allow Easy Access to Your Pets and Eggs
◦ Easily Connect Additional Pens (Sold Separately) for a Larger Living Space