Welcome to Descanso Hay & Feed, serving the backcountry of eastern San Diego County since 2008. We are family owned and operated by Gordon and Cherie Garewal, Descanso residents. Serving our own community makes us very devoted to giving our customers the highest quality product and finest customer service possible!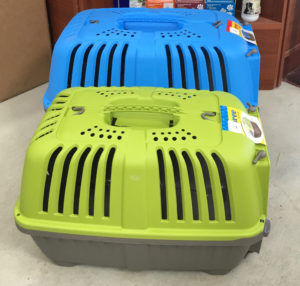 The warmer weather feels fantastic after a wet, chilly winter! But with warmer weather comes the increased risk of wildfire danger.  Are you ready for Fire Season? It seems to come earlier and earlier each year. California needed all that wonderful rain but now….the fuel load is heavy. Let Bullseye Feed help prepare you for evacuation.
Pick up your pet carriers before you need them. Animals stress during evacuation. Don't just throw them into the car and hope everybody will behave. Give them the comfort and security of being contained in their own carrier. $22 – $25 each.
We are located at 25077 Viejas Blvd # A, Descanso, CA 91916